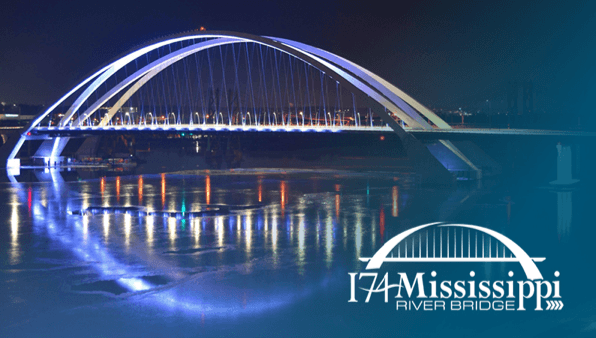 We're getting closer to completing the beautiful new color-changing lighting on the new I-74 River Bridge. Contractors have installed all the lighting components and staff at the cities of Bettendorf and Moline have been trained to create and operate dramatic new lighting scenes. We have no doubt you'll be thrilled with the results!
Before we finish up, the project team will run through lighting scenes and colors to ensure barge captains can safely navigate through the channel under the I-74 River Bridge. Beginning Friday, July 22 between sunset and sunrise, the bridge will be lit up with different lighting scenes each night for approximately 30 days. The U.S. Coast Guard will collect feedback from the barge captains and the project team will review and adjust the lighting intensity if necessary.
This is also a unique opportunity for the public to catch the (lighting) magic! Whether you choose to drive over the bridge, walk the bike and pedestrian path, or view the bridge from the riverfront, you'll get a fantastic view of the gorgeous lighting on the I-74 River Bridge.
Ben Leischner, Executive Director of the Quad Cities International Airport, reported that there are more than 1,400 people who work on airport property with an economic impact of more than $700 million. Passenger numbers in 2019 were 721,999 in 2019 as compared to 306,149 in 2020. The lowest volume was at the outset of the pandemic in April 2020 with 95% decline in passengers. The year-end volume for 2021 was 493,384.
Services to Denver, Minneapolis and Detroit were temporarily suspended; Denver restarted February 2021 and Minneapolis in June 2021. Delta has not restarted Detroit service, which is on indefinite hold. Overall, the airlines have reduced schedules, which affects passenger numbers. As of Thanksgiving weekend 2021, air travel had recovered 94% from 2019 numbers. To offset payroll costs, debt service, and COVID related expenses, the airport has accessed CARES, CRRSAA, PPP, and ARPA funds.
The Quad City Health Initiative (QCHI) was formed in 1999 and a cross-community partnerships to create a healthy community. The 2021 Vision states: "The Quad Cities region is united as one vibrant, diverse, collaborative community with engaged citizens, safe, thriving neighborhoods, and equitable and inclusive access and opportunities for overall health and social well-being."
Occurring every 3 years and dating back to 2002, a systematic, data-driven assessment of health status, behaviors, and needs is conducted in Muscatine, Scott, and Rock Island Counties to provide a barometer on residents' health and wellness. Partners work together to coordinate the assessments that meet the reporting requirements of the health systems and also encompass the 5-year assessment planning cycles of the health departments. The assessment results lead to health improvement plans and actions.