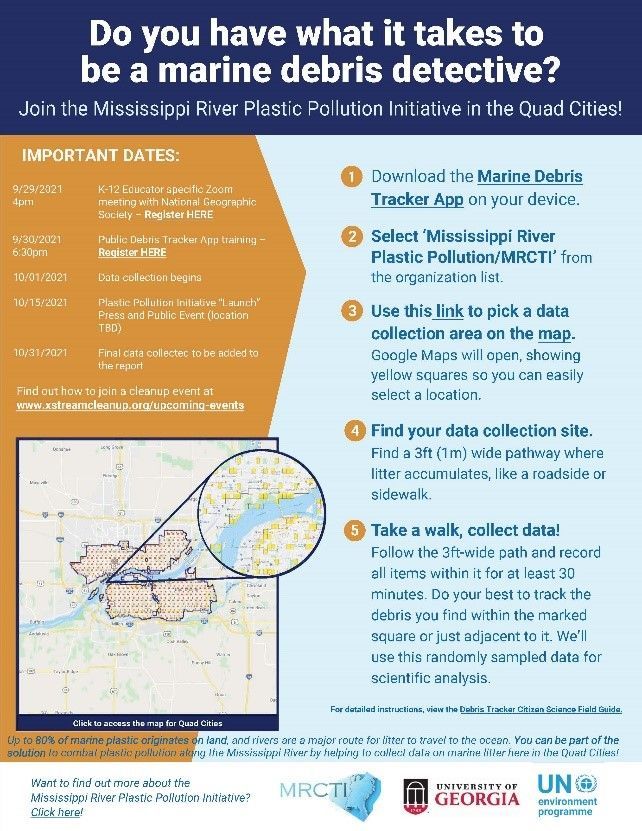 Kathy Morris, Executive Director of the Waste Commission of Scott County, provided an overview of a USEPA Trash Free Waters Grant application and an initiative through the Mississippi River Cities and Towns Initiative (MRCTI). The greater Quad Cities area is well poised for a cooperative litter data collection and action effort. Environmental partners across the area have come together to provide clean-ups over the last 17 years as part of Xstream Cleanup. This effort equates to 21,404 volunteers, 57,182 hours and 1,107,859 pounds of trash collected.
As a named urbanized area in the notice of intent for the USEPA Trash Free Waters grant, and local mayor participation in the MRCTI, a natural collaboration evolved to participate in the Mississippi River Plastic Pollution Initiative. The Quad Cities Plastic Pollution Initiative will be an area-wide volunteer citizen science data and litter collection project set for October 2021. It will culminate in a report on the types of litter that can make its way into the river and eventually the Gulf of Mexico. The October 2021 initiative will provide information to inform actions proposed in the Trash Free Waters grant.
Download the marine debris tracker app https://debristracker.org/Mississippi to collect data on litter with an emphasis on plastics, and details on brands and types of litter. Volunteers are encouraged to join a clean-up event, select a mapped location, or take a walk in the Quad Cities area to participate in this unique opportunity.
"Individuals have the potential to influence important environmental decisions. Help collect data on marine debris to inspire decision-makers to take action to #BeatPlasticPollution.
Learn more at www.unep.org/Mississippi #CleanSeas"