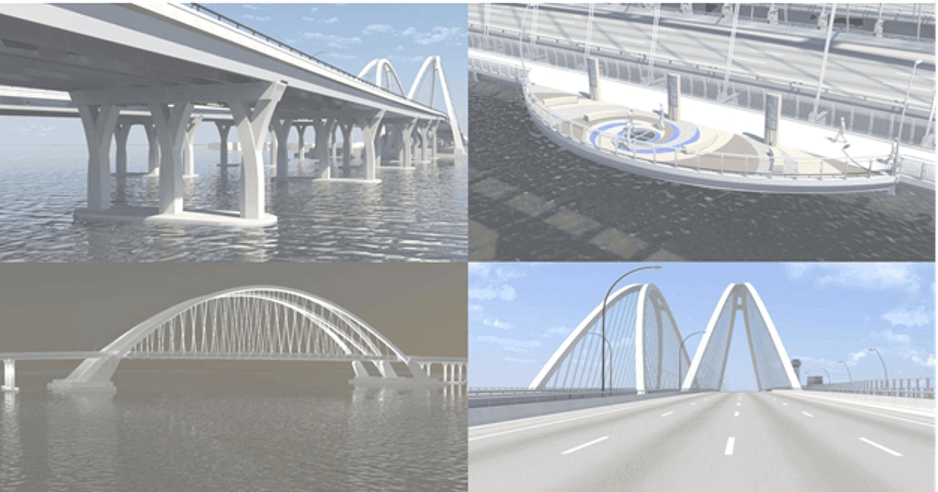 There has been significant progress made on the I-74 Bridge Project and the westbound bridge is set to open by the end of November 2020. The I-74 Bridge Corridor project has been the top priority transportation project of the Bi-State Regional Commission since 1998. Even though there have been many changes in elected and state officials since 1998, through their leadership the project has continued to move forward. Each new official has supported the project for over 20 years. Local and state leadership changes have included:
Bettendorf – 3 Mayors
Davenport – 6 Mayors
Scott County – 10 County Board Chairs
East Moline – 4 Mayors
Moline – 4 Mayors
Rock Island – 3 Mayors
Rock Island County – 5 County Board Chairs
Iowa DOT District Office – 3 District Engineers
Illinois DOT District Office – 9 District Engineers
Work to acquire initial funding for the project even included testifying in 2003 to the United States Senate Committee on Environment and Public Works. Over $88 million Federal discretionary dollars were received for the approximately $1.2 billion-dollar project between 2001-2010 through the efforts of federal legislators serving the Bi-State Region.
The I-74 Bridge construction period was reduced from 8 years to reduce costs and traffic was maintained through corridor to reduce disruption to the public. Notably, traffic remained steady with a 2019 count of 69,000 during construction. The project includes numerous mainline and specialty contracts with over 300 construction workers on average per day.
Both the east and westbound reconstructed I-74 Bridge spans will have three lanes in each direction with an additional auxiliary lane between the first ramp in downtown Bettendorf and the first ramp in downtown Moline. It will also have full shoulders allowing for disabled vehicles to be removed from the travel lanes and giving emergency vehicles access in the event of an incident. Information on the project has been published in numerous engineering and bridge trade journals. The reconstructed I-74 Bridge is being built to last 100 years and it will have increased protection for seismic occurrences and barge collisions. Additionally, it will include a rare interstate multi-purpose trail along the downstream (eastbound) span with access to the Mississippi River Trails in Moline and Bettendorf. Information may be found at www.I74RiverBridge.com.