April 24, 2019 – Rachel Bruce, Bi-State Regional Commission Planner, reported that Census Day is April 1, 2020, but outreach efforts began as early as 2018 with the coordination of programs like the Boundary and Annexation Survey (BAS) and Participant Statistical Areas Program (PSAP). These programs gave local jurisdictions the opportunity to review and propose modifications to boundaries for census tracts, block groups, and census designated places (CDPs) to ensure that the Census Bureau accurately represents the geography of the region. This summer, the Census Bureau will begin address canvassing to verify structures and addresses for the questionnaire mailing. Canvassing is expected to last until August, and the Census Bureau has already begun hiring workers for canvassing activities and in preparation for Census Day.
The census is very important to communities because it directly affects the amount of funding each state receives for the next 10 years. Census data is also used to determine congressional districts and representation. In Illinois alone, each uncounted person accounts for $1,800 dollars per year in lost funding.
It is important to note the following key facts about the 2020 Census and its timeline:
Article 1, Section 2 of the United States Constitution mandates a decennial headcount of everyone residing in the U.S., including people of all ages, races, ethnic groups, citizens, and noncitizens
All data reported to the Census Bureau is protected by Title 13 of the United States Code, which means that it is a felony for any Census Bureau employee to disclose confidential information
For the first time, the census questionnaire will be available to fill out online
Self-response will begin in March 2020, when residents will receive mailers with instructions on how to fill out the census online or over the phone or request a paper copy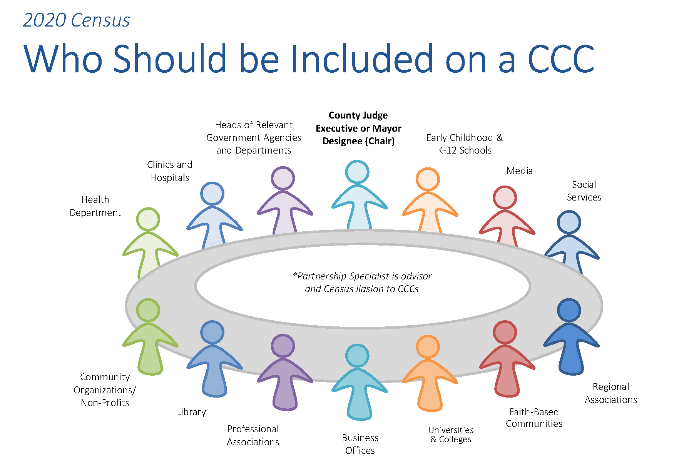 Community involvement is essential toward achieving a complete count for the 2020 Census. One way to start community outreach is to form a Complete Count Committee. These are groups of community partners that help to build trust in the census, implement outreach strategies using local knowledge, and increase the overall self-response rate for the 2020 Census. Complete Count Committees may include local elected officials, health professionals, education professionals, media, social service professionals, and members of faith-based communities.
Bi-State Regional Commission received $60,000 in Regional Development Authority grant funds that are being use to contract with the Doris & Victor Day Foundation to provide Census outreach work in Scott County similar to that in Rock Island County that had already been funded by the Foundation. The effort involves providing public education to ensure a full and accurate count for the 2020 Census Hard to Count (HTC) areas and communities.
HTC areas are defined as those with a 73% or less self-response rate on the 2010 Census. Populations with a high non-response rate include children, seniors, people of color, rural residents, those with language barriers, frequent movers, foreign-born residents, households below the poverty line, large (overcrowded) households, low educational attainment households, and single-parent households. The Foundation efforts entail working with all sectors to reach hard to reach populations and gain their trust with the help of their leaders and influencers. Bi-State Regional Commission participates by providing day-to-day data work with local governments in the five-county region, which complements the efforts of the Foundation through the technical staff work of planners, mapping specialists, and policy level outreach.
The Foundation has hired a second staff person to work with the current staff to conduct the outreach effort for 18 months. The two staff conduct meetings and education sessions with not-for-profits, churches, neighborhood group, schools, health departments, etc. to reach the targeted populations. They will train representatives of these groups on activities and needs for a successful 2020 Census.
Outreach activities include:
Networking with state and national partners
Supporting local government Complete Count Committees
Holding trainings especially for not-for-profits, churches, neighborhood groups, schools, health departments, businesses etc. to reach the targeted populations so they may develop outreach campaigns within the sectors and among their members
Providing educational information to trusted messengers identified by the above groups and assisting them in their outreach efforts
Developing innovative ideas on how to engage diverse populations
Collecting, updating, and maintaining a database of stakeholders
Developing and disseminating media/website/blog updates and providing information for partners to share in their monthly newsletters