March 23, 2016 – Andrew Barnes, Assistant Chief, Programs and Project Management Division at the U.S. Army Corps of Engineers (COE) – Rock Island District, spoke on the challenges and opportunities for maintaining and improving the infrastructure on the Mississippi River. On the 1,200 mile Mississippi River navigation system, there are 37 lock sites predominately built in the 1930s. The American Society of Civil Engineers recently rated the dam and inland waterway with a D and D-, respectively.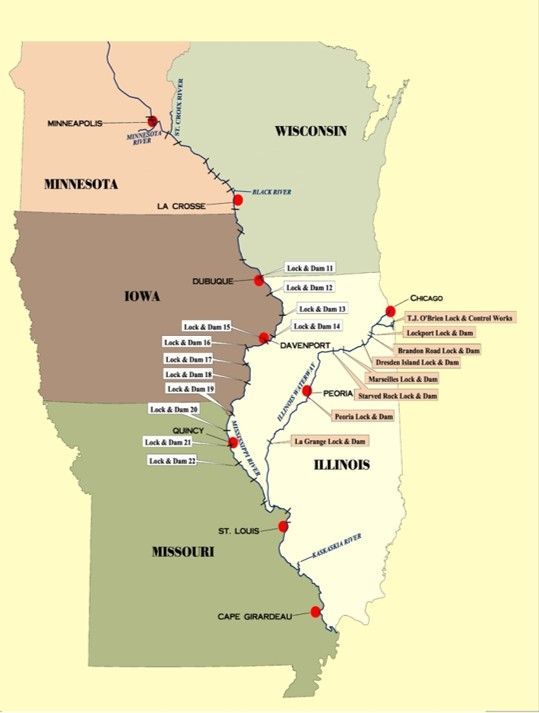 The Upper Mississippi River (UMR) carries more than 600 million tons of cargo each year. With the completion of improvements to the Panama Canal in 2016/17, opportunities may be present to increase river navigation and move more products. Barge transportation is the least expensive mode for bulk commodities and the most green transportation option. Mr. Barnes cited the cost savings for industry as $23.74 per ton for traffic moving through the UMR, with annual cost savings near $1 billion.
U.S. Inland Waterway Trust Fund supports a portion of the system. In 2014, the navigation fuel tax was raised from $0.20 to $0.29 per gallon, which improved funding for operations and maintenance. There are three main programs to fund projects – operation and maintenance, major rehabilitation, and future improvements. Only operations and maintenance has been funded.
Upcoming work on the river navigation system locally in 2016 includes:
Locks 13 and 21 dewatering
Locks 14-17 bulkhead recesses
Marseilles Dam repairs
Dresden Dam gate replacement
Locks 13 and 16 miter gates replacement
Lock 15 guidewall repairs
The result of delayed maintenance and new project implementation affects system reliability and contributes to congestion within the river navigation system. The Navigation and Ecosystem Sustainability Program (NESP) has never received construction funds and would be considered new project implementation.