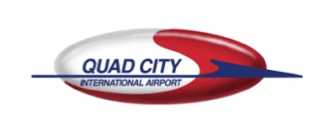 November 18, 2015 –
On October 26, 2015, the inaugural direct flight to Dulles Airport in Washington, D.C. took off from the Quad City International Airport, making this the 11th city (12 seasonally) with non-stop service to and from the Quad Cities, reported Bruce Carter, Aviation Director. This is a boon to the Quad Cities with the Arsenal so that military personnel and public officials can travel back and forth to Washington with ease. The airport carries three major airlines (American Eagle, Delta, and United) and one vacation airline (Allegiant). Total passengers for 2014 was 738,398 with 380,000 enplanements.
The top 10 direct destinations, starting with the most popular (daily passengers each way in parentheses), are Las Vegas (57.5); Phoenix/Mesa Gateway (53); Orlando-Sanford (51.5); St. Petersburg/Clearwater (50.9); Punta Gorda (42.9); Atlanta (39.9); Dallas-Ft. Worth (28); Orlando International (25.6); Phoenix-Sky Harbor (23.2); and Denver (20.6). This does not include passengers flying to these locations and connecting with other flights.
The airport received a $2.36 million grant to upgrade the runway guard lights and airport lighting control management system. In FY2014, the airport received $1.1 million dollars in state and federal grants. An estimated $3.4 million in grants is estimated for FY2015.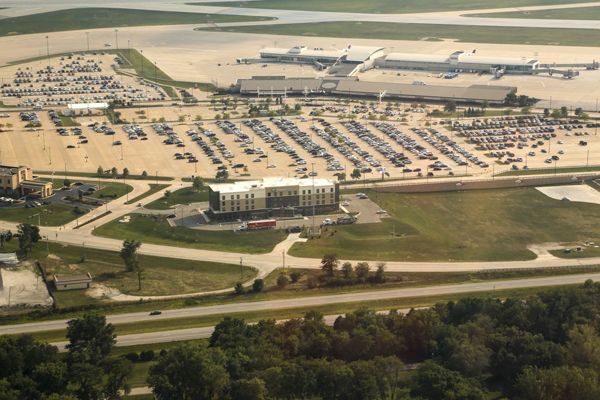 The Holiday Inn Express opened in July 2014, making 2 hotels on airport property, bringing in non-aeronautical revenue. There is a another lot available to the west of the Holiday Inn Express that is open for development. There is also property to the northeast of the airport terminal (the former Flicks and Bud's Skyline Inn properties) that is available. The airport will put out a request for quotes to developers for those properties. Currently, the airport is looking for restaurant and shopping facilities.
The Quick-Turn-Around (QTA) rental car facility opened in October 2014, and the rental car companies signed a new 5-year agreement that starts January 2016. Elliott Aviation completed their remodel of the old John Deere hangar, and the U.S. Customs building had upgrades completed. The snow removal equipment building is now in use, making it possible for all outdoor equipment to be housed in the same facility.
Once again, customer care is the most complemented service from customer feedback, which features Skycap service and an electric cart. The free, while-you-wait cell lot parking is also very well received and helpful to visitors waiting to pick up passengers so they don't have to pay for parking.