The Quad City Health Initiative (QCHI) was formed in 1999 and a cross-community partnerships to create a healthy community. The 2021 Vision states: "The Quad Cities region is united as one vibrant, diverse, collaborative community with engaged citizens, safe, thriving neighborhoods, and equitable and inclusive access and opportunities for overall health and social well-being."
Occurring every 3 years and dating back to 2002, a systematic, data-driven assessment of health status, behaviors, and needs is conducted in Muscatine, Scott, and Rock Island Counties to provide a barometer on residents' health and wellness. Partners work together to coordinate the assessments that meet the reporting requirements of the health systems and also encompass the 5-year assessment planning cycles of the health departments. The assessment results lead to health improvement plans and actions.
Serving 5 river basins in 5 states, the U.S. Army Corps of Engineers (USACE) Rock Island District delivers vital engineering and water resources solutions in collaboration with their partners to secure the nation, reduce disaster risk, and enhance the quality of the nation's inland waterway system. The Rock Island District maintains the second longest nine-foot navigation channel (582 miles) and 18 locks and dams. This system supports the movement of 313 million tons of cargo annually (2021).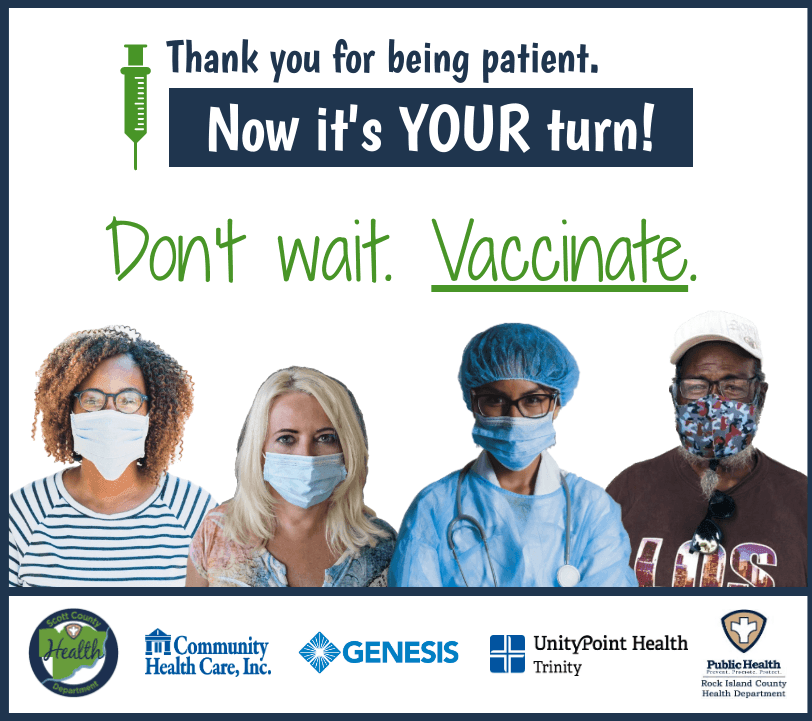 Bi-State Regional Commission is an Equal Opportunity Employer is committed to ensuring that no person is excluded from participation in or denied the benefits of its services on the basis of race, color, or national origin as protected by Title VI of the Civil Rights Act of 1964, as amended. The Title VI document provides information on programs and activities that are federally funded and where efforts are made to deliver those programs in a non-discriminatory way. If a citizen or interested party feels there are grounds for complaints related to Title VI where discrimination has occurred, the policy outlines procedures to submit a complaint. Title VI complaints must be filed within 180 days from the date of the alleged discrimination.
Title VI Program and Non-Discrimination Policy 2021
pdf 2021 BSRC Title VI for Planning Agencies (3.80 MB)
The following information is necessary to assist us in processing your complaint. If you require any assistance in completing this form, please contact the Title VI Coordinator by calling (309) 793-6300. The completed form must be returned to the Bi-State Regional Commission, 1504 Third Avenue, Third Floor, Rock Island, Illinois 61201. Faxed, e-mailed, or electronically-transmitted forms are not accepted. Hand delivery is recommended to ensure that the complaint is filed within the statutory deadline.
pdf Title VI Complaint Form - English (276 KB)
Bi-State Regional Commission está obligado a asegurar que ninguna persona sea excluída de participar en o se le niegan beneficios a sus servicios en báse a raza, color, origen nacional, como protegidos por el Titulo VI de los Derechos Civiles del Acta de 1964 como amendados ("Titulo VI").
Bi-State Regional Commission está dispuesto a asegurar que acualquier persona sea excluída de tener una participación en o negada de beneficios a los servicios en báse a raza, color, u origen nacional, como son proveídos por el Título VI del Acta de Derechos Civiles de 1964, como amendados. Las quejas correspondientes al Título VI deberán ser registradas dentro de los 180 dias a partir de la fecha de la queja alegada correspondiente a una descriminación.
La siguiente información es necesaria para asistirlos a procesar su queja. Si usted requiere alguna ayuda en completar este formulario, pónganse en contacto con el Coordinador del Titulo VI al llamar al (309)793-6300. El formulario completo deberá ser devuelto al Bi-State Regional Commission, 1504 Third Avenue, Third Floor, Rock Island, Illinois 61201. No se aceptan formularios que son enviados por fax, correo electrónico o diferentes transmiciones. Se recomienda que éstos sean entregados personalmente para asi asegurar que la entrega ha sido hecha dentro de los limites de plazo de cierre estatuatorio.
pdf Title VI Complaint Form - Spanish (161 KB)
Bi-State staff can write and administer grants for many types of awarded projects, maintaining compliance with all applicable state and federal guidelines and requirements.
In order for Bi-State staff to best assist with grant applications, the applying member government should be prepared to provide the following information:
Proposed project scope and purpose, including target population and explanation of how the project fits within the member government's goals
Detailed project budgets, including estimates/quotes if applicable
Budget for most current fiscal year
Community's comprehensive plan and/or mission statement, or documents supporting the project's planning and priority
Any other supplementary materials as dictated by the grant application guidelines
Staff also offers assistance in conducting household surveys as needed for applications, particularly for competitive state programs funded through the U.S. Department of Housing and Urban Development, which require documentation of benefit to at least 51% low-and moderate-income persons to establish eligibility. Income survey contracts should be scheduled well in advance of application deadlines. These grant programs include the Community Development Block Grant (CDBG) program, which is administered by the Department of Commerce and Economic Opportunity (DCEO) in Illinois and by the Economic Development Authority (IEDA) in Iowa.
Iowa applicants should be registered with IowaGrants.gov, which provides an online grant application and management system as well as a search portal for grant and loan opportunities.